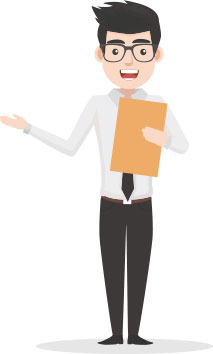 Are you an Entrepreneur having innovative business idea? Do you dare to break the mould?
Finance is the back bone for any business organization. Considering the economic and business scenario of India, start-ups are flourishing every day. At Finance Mart, we are committed to link the right finance to our client's requirement. We recognize the need of finance for your business. We are here to get you on track.
We understand your business requirements and ideas and we document it to represent your ideas to various banks and NBFCs to get them timely funds. We help you to get quick and hassle free loan approval with flexible repayment option that is suitable for your business.
At Finance Mart We also help you to Transfer your high cost loan to reduce your monthly installment burden along with enhancement on your loan for additional needs in hassle free manner.
Business Loan Features & Benefits 
Business loan is an unsecured loan which means it does not require collateral or guarantor.
Business loan interest rate will be same for the entire tenure
Compare to other loans, business loan allows flexible repayment tenure which is preferable among business owners.
Business Loan process will require minimal paperwork and can approve and disburse faster
Business Loan can be avail upto Rs. 2 Crore depending on the financial credibility of loan borrower
Business Loan can be availed for business expansion expenditure, to enhance to production capability, purchasing new equipment etc
Features & Benefits of
Take over loan or Balance Transfer
Benefit in the Interest Rate by conversion from Higher Rate of Interest to Lower Rate
Availment Enhancement of Personal, Business or Professional needs & consolidate your debt
Get Top-up at competitive Home Loan Rate
Increase the Tenure of Existing Home Loan to Reduce EMI Outflow
Shifting of Regular Home loan to Interest Saver Scheme to take the optimum interest benefit
Documents required for Business Loan
Passport Size Photographs
Last 3 years Income Tax Return & Financial statements
All Bank account/Loan Account statements of last 1 year
Business proof/Ownership Proof of Business Place
KYC Documents of Firm & Promoters
GST Returns for last 12 months
LET US HELP YOU TO GET YOUR BUSINESS LOAN APPROVED,
WHEN YOU FOCUS ON BUSINESS GROWTH!
Apply for Business loan with Finance Mart to avail range of benefits to:
Prepare your Document for Business Loan
Calculate the Business Loan amount that you are eligible for
Calculate the EMI for your Business Loan
Get the best suitable Business Loan quote as per your requirements
Compare different Business Loan Bank offers and choose the best suitable for you
Apply for Business Loan online or offline
Get you Loan application approved without any hassle